I could have sworn I had read in the history of 9 Squadron (pardon me, IX (B) Squadron) that it was going to be disbanded along with 31 Squadron on the retirement of the Tornado in March 2019, and was going to re-equip at some vague time with pilotless aircraft like the MQ-9 Reaper. Maybe that was in Wikipedia, which may account for my muddy thinking. [later – 31 Squadron will get the Reaper in about 2024. XIII, 54(R) and 39 Squadrons have it now. XIII / 13 Squadron is ex-Tornado as is 31]
This picture makes me happy on several levels. It also shows how out of touch I am with Defence policy in the UK but that's another matter. The photo shows two Eurofighter Typhoons of IX (B) Squadron flying in formation with the beautifully painted Tornado GR.4 ZG775 in its IX (B) Squadron retirement scheme.
Imagine my surprise when searching for Tornado paint schemes (see the earlier blog post) that a well known search engine asked if I was looking for an image of a 9 Squadron Typhoon. I had to look. And lo and behold.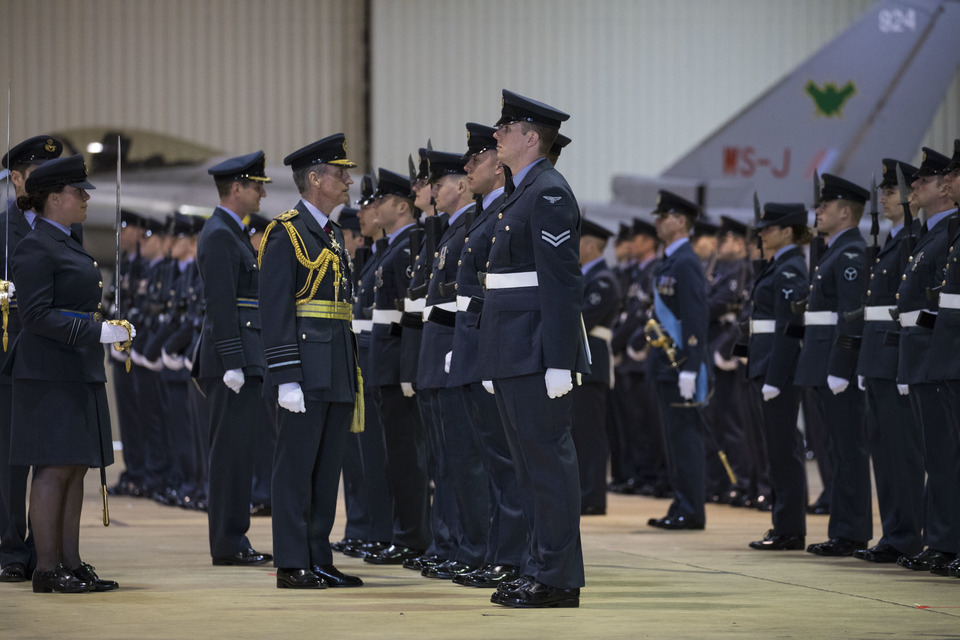 To paraphrase a chunk of Wikipedia – No. IX (B) Squadron formally re-equipped as an aggressor and air defence squadron operating Eurofighter Typhoon Tranche 1 aircraft on 1 April 2019, continuing in unbroken service upon retirement of the Panavia / BAe Systems Tornado.
Well that was interesting. Apparently somebody had an idea not to retire the Tranche 1 Typhoons, but to establish two new squadrons and use them in the aggressor / QRA (fighter, for old school pupils) role while the other squadrons continue in the Fighter-bomber role or whatever they call it now. Not only this, but a second squadron will use the remaining Tranche 1 aircraft at Lossiemouth and this I understand may be 12 Squadon's latest incarnation.
I just saw an article from a UK newspaper (with thanks to my lovely sister for showing me the clipping) that things were going to be getting a little more noisy at RAF Leeming in Yorkshire, which is the home of 100 Squadron's "aggressor" Hawks. There are some exercises coming up, the newspaper said. If the Hawks from Leeming and the Typhoons from Lossiemouth are ganging up over the East Coast of the UK I can see how this might happen. It's funny how all these old Lancaster squadrons are coming back as 21st Century aggressors.
In a not unrelated matter, I can now stop worrying about the paint I sprayed on my very small scale Typhoon models being too light in comparison with the Tornados. See the evidence. 🙂